Coming soon, for the Disruption! solar energy podcast, I'll be interviewing a Richard King from the United States Department of Energy's Solar Decathlon ahead of their 2013 expo. The exhibition will take place on October 3 – 13 at Orange Country Great Park in Irvine, California. So I thought it would be a great time to post on what I think will be one of the keys to getting rooftop solar to a ubiquitous level going forward. Design. Solar PV on racks and mounting systems can be made to look okay in a few cases, but they are usually at odds with the architecture of the typical suburban home.
Inadvertently 8 bit style solar design.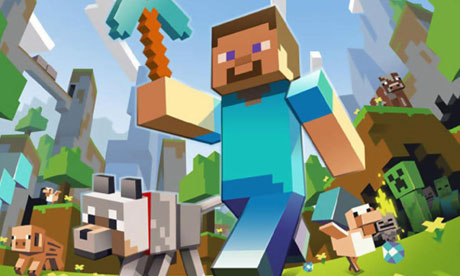 Purposely retro.
The owner of the house is not to blame for this 8 bit atrocity. In fact, they should be applauded for going solar. And we can't exactly put the blame squarely on the installation company either. They were given a job to do and worked within their means given the technology of the time. At least the install is maximizing the sun, which is not always the case.
Ugly installations are not uncommon. Check out these sites for more ugliness.
You may have heard of Building Integrated Photovoltaics. BIPV is usually done with very thin, very inefficient PV attached to the side or even on the windows of an edifice. Let's apply that same tactic, but to highly efficient PV and put it on our rooftops. That will be RIPV. It's different from typical rooftop PV installations in that this design method hides all of the periphery needed to make solar work. Those accessories include wiring, and racks, frames, or mounts. All that's left for you to see are the glorious solar cells embedded into the house as if they have always belonged there.
RIPV must be considered in the architects initial design draft. I suppose in theory a roof could be altered to integrate PV, but the costs of this vanity would be too large for the average homeowner. I've alluded to much of this in a previous article about the aesthetics of solar. The folks participating in the Solar Decathlon are using form and function to incorporate RIPV.
Check out these pics from Solar Decathlon entrants.
Solar integrated with the roof.
Notice how the panels cover every inch of the roof.
The students who entered these designs into the DOE's Solar Decathlon have nicely integrated solar with the design of the house. The panels produce clean energy. They blend beautifully with the architecture. And they provide protection. No shingles or tiles will need replacing here. Instead, the solar panels, which should last between 25 and 30 years, are the first line of defense for these shelters. The eventual replacement of the panels must be considered when builders begin constructing RIPV houses.
Fortunately, some businesses are sprouting up to include RIPV (some just call it BIPV). SRS Energy has created tiles covered with thin film solar to, in their words, "convert wide spectrums of light into electricity without sacrificing aesthetics." I applaud the efforts of companies like this. I hope to see more home builders reaching out to solar manufacturers, and vice versa.
It is possible that solar technology may find a solution to making installs more appealing. Perhaps the day will come when installations are more simplified and more aesthetic at the same time. But for now, ready made RIPV houses like those designed by students in the Solar Decathlon are our best option for a world gone solar in an appealing way.
For more information about the Solar Decathlon please visit their website at solardecathlon.gov. Also, I'll be interviewing Richard King, the Director of the Solar Decathlon on September 27 for the Disruption! podcast featured on iTunes and Stitcher Radio.